Want to know all the pro tips for traveling by ferry from Athens to Santorini? Then, you're reading the right text!
Traveling to Santorini is a dream coming true for many. But, it can also become complicated, if you don't know all the tips that will make your trip smooth.
Well, we're here to offer our help!
Stay with us and we'll make you the master of traveling by ferry from Athens to Santorini.
The best part?
Traveling by ferry from Athens to Santorini will be a piece of cake for you, after reading this!
Why Santorini?
Well, this might be a rhetorical question. This is because there is a bunch of reasons why Santorini is on the bucket list of many people!
Its volcanic landscape, its romantic sunsets, and its breathtaking views are just some of them. Not to mention the amphitheatrically built villages of Oia and Fira. Pure perfection!
You might actually need to pinch yourself to know that you are not dreaming!
One of the best things in Santorini is its houses! They are small and white, built according to Cycladic architecture, making a contrast with the blue surrounding.
Tip: The best way to enjoy the breathtaking view of Santorini is to have a coffee or a drink at one of the many balconies around the island.
On a ferry from Athens to Santorini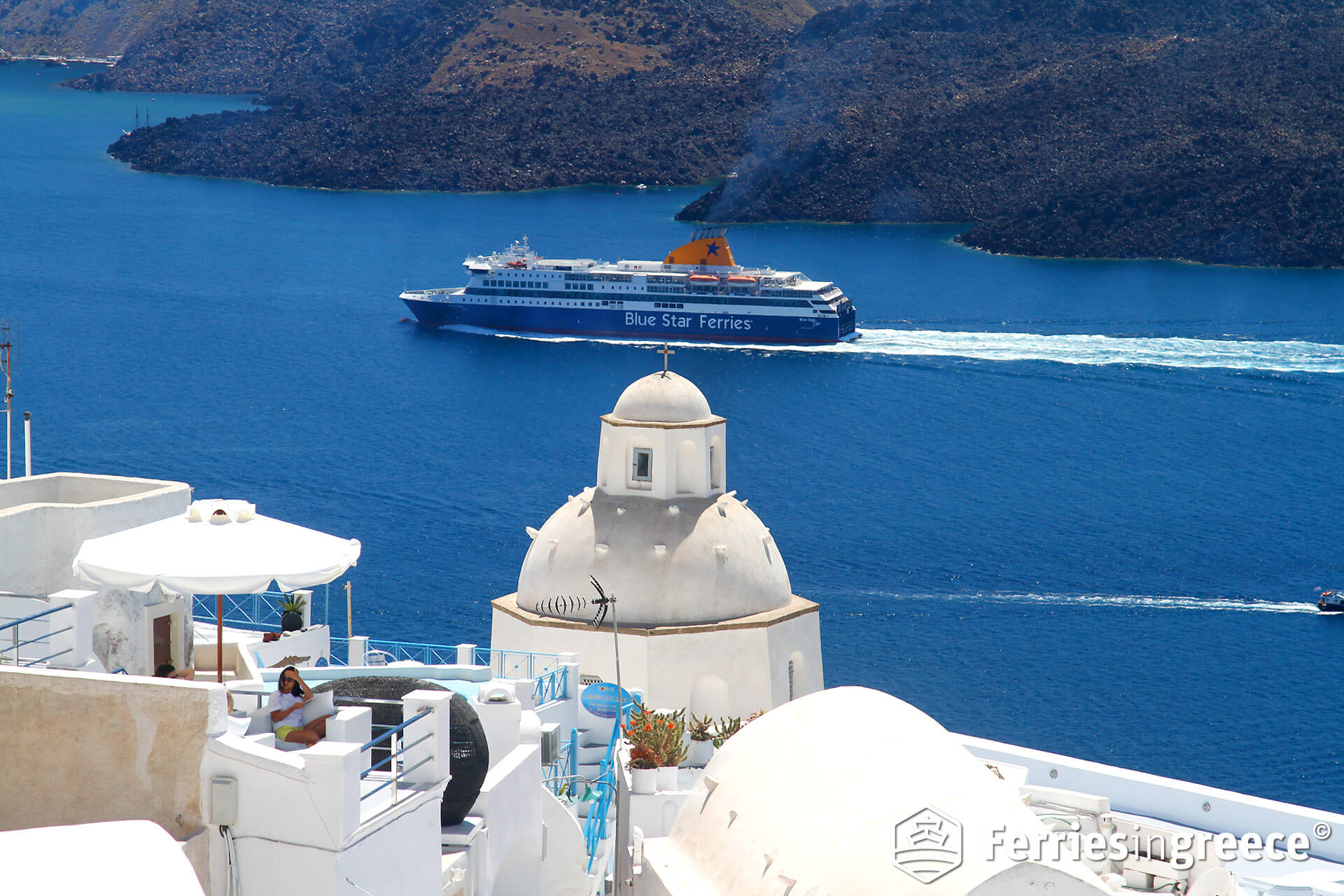 Wondering if getting from Athens to Santorini is easy?
Of course, it is!
There are more than 6 ferry crossings daily, during summer from Athens to Santorini. Well, this is not a surprise, as Santorini is such a popular destination.
As for the price, a ferry from Athens to Santorini costs around 38 € to 79.70 €. What's more, it will take you to Santorini in 4.5 to 8 hours, depending on its type (regular or high speed). Discover all the schedules of ferries between Athens and Santorini.
Ferries to Santorini depart both from the ports of Piraeus and Rafina, in Athens. You can choose which one serves you better, depending on ferry routes from every port.
As for the ferry companies traveling to Santorini, Blue Star Ferries, Sea Jets, and Golden Star Ferries are the main ones.
But let's see the itineraries they serve in detail!
Blue Star Ferries
Blue Star Ferries is one of the leading ferry companies in Greece. It serves itineraries from Athens to Cyclades islands and the Dodecanese islands.
Blue Star ferries have a morning route to Santorini all year round. This may be a lifesaver for you if you're planning to travel to Santorini off-season!
The ferry departs from Piraeus Port at 7.25 and arrives at Santorini, 7 hours and 45 minutes later, at 15.10. It may also make stops to Paros, Naxos, and Ios, before reaching Santorini.
Preferring to travel in the evening?
You're lucky, cause there is an option for you! Blue Star Ferries has an evening route to Santorini 3-4 times per week that will get you to Santorini after midnight.
Blue Star Ferries are conventional vessels with huge indoor and outdoor spaces, restaurants, cafes and shops. Due to their size, they do not get affected by strong winds and offer a long but pleasant trip.
Note, that traveling with Blue Star Ferries is the cheapest option and tickets begin from 38€
SeaJets
Every morning, at 7.00 two SeaJets high-speed vessels depart from Piraeus port and reach Santorini port, within less than 5 hours, at 11.30 and 11.50. Note, that they are both Catamaran with limited facilities onboard but with a shorter trip length. The Worldchampion Jet is bigger than Seajet 2 and transfers vehicles. Due to their size and speed, strong winds might affect them. Ferry delays and seasickness to passengers might occur.
Tickets prices begin from 69.70€.
Golden Star Ferries
Are you planning to travel to Santorini from Rafina port in Athens?
Then, Golden Star Ferries company is the ideal option for you!
Golden Star Ferries has a daily ferry to Santorini, departing every morning at 7.15 and arriving at Santorini at 11.35. This ferry company has high-speed, passengers-only vessels.
There is also a ferry crossing from Piraeus by the same company every morning at 6.50 and arriving at Santorini 5 hours later at 11.50.
The ticket cost begins from 60€.
Other ferries
Zante Ferries and Aegeon Pelagos Ferries also serve itineraries to Santorini from Piraeus port. Not daily, though.
How to book your ferry tickets from Athens to Santorini
Greek ferries, in general, aren't usually overbooked. But it's better to be safe than sorry, right?
Santorini is the most popular island of Greece during the summer months and especially in July and August, ferries get overbooked. If you are travelling during that period, it is strongly recommended to pre-book your ferry tickets online 2 -3 months in advance.
After booking your ferry tickets online, you will receive an e-ticket (if you are traveling with SeaJets or Golden Star Ferries) or a voucher (if you are traveling with Blue Star). The voucher will be indicating the specific ticket pick-up point which is in Piraeus Port, at the Blue Star kiosk which is right in front of the vessel.
Of course, if you are traveling with Blue Star and want to avoid the queue at the kiosk, you can always ask to have them delivered to you. Therefore, you'll get straight into your ferry, without having to wait to get your ticket.
Easier, isn't it?
An alternative is to buy your ferry tickets at a travel agency. You can simply walk into a travel agency during your stay in Athens, ask for information about the routes and select the one that serves you. Unfortunately, if you are travelling high-season it is very likely that vessels will be overbooked and no available tickets left.
Getting from airport to port
So, you've just arrived at the Athens airport and planning to get to the port.
We know what you're thinking.
You better avoid unnecessary delays and hop on your ferry in time, right?
We're on the same team here! That's why we present you with all the possible options to get from the airport to the port smoothly.
Taxi
If you're planning to go from Athens airport to Piraeus port by taxi, it will take you about an hour. As for the price, you'll pay 50 € to 60 €.
Otherwise, if you're traveling to Santorini from Rafina, the distance from the airport to Rafina is about 15 minutes. Expect to pay something between 25 € and 35 €.
Bus
Taking a bus to Piraeus port is a much cheaper option. This is because the bus ticket will cost you just 6 €!
Bus service from Athens airport to the Piraeus port is provided 24/7 all year round, including holidays. The bus serving the itinerary to the Piraeus port is X96. It will get you to Piraeus in about 90 minutes.
You can buy bus tickets at the info/ticket kiosks, which you'll find between Exits 4 and 5 at the airport. What's more, the X96 bus has frequent routes, leaving every 30 minutes from the airport.
Is your ferry leaving from Rafina port?
Then taking a bus from the airport to Rafina is a good option. The bus to Rafina is leaving from a bus stop between Exit 2 and Exit 3 of the airport. The routes are frequent, as the bus departs from the airport approximately every one hour from 6.00 until 21.45. The best part is the bus ticket costs only 3 € and you can buy it from the bus driver.
As for the distance, it will take around 30 minutes to arrive at Rafina Port.
Getting from downtown Athens to port
Are you in downtown Athens, enjoying some sightseeing before your island trip?
No worries! Getting to Piraeus port from downtown Athens is quite simple.
Metro
Getting to Piraeus port from downtown Athens using the metro (Line 1) is the easiest thing!
Taking the metro from Monastiraki Metro station, at Monastiraki Square or from Omonoia Metro Station, at Omonoia Square, will get you to Piraeus in 20-30 minutes. As for metro tickets, they cost 1.40 €.
Metro is open from 5.30 in the morning, till midnight. Plus, it has frequent routes every 5-10 minutes.
Arriving at Santorini Port
Traveling by ferry to Santorini means you'll arrive at Athinios, the new port of Santorini in Thira. Buses from the port will take you to Fira and all the villages of Santorini. Bus schedules are set depending on the arriving times and departing times of the ferries.
An alternative to getting to your hotel in Santorini is by taxi. There are many taxis in Santorini and at the port, so you won't have a hard time finding one. Taxi rates are set every year, depending on the destination and the touristic season.
Tip: The best option to get to your hotel fast, in the most convenient way possible, is to book your transfer. This way, you won't have to worry about finding a taxi!
So, it all adds up to this: Getting a ferry to the magical Santorini island is just the beginning of the adventure!
With all the info you have in hand now, it should be one of the easiest trips of your life.
So, book your ferry tickets to Santorini and prepare to live your best holidays ever!
Read next: How to get from Mykonos to Santorini