If you think that the only thing to do in Piraeus (Athens) is to hop on a ferry to the Greek islands, you're dead wrong!
Easily accessed from Athens city center and picturesquely nestled on the eastern coast of the Saronic Gulf, Piraeus is an ideal area to explore in Athens. On top of that, it is great for relaxing strolls before departing for your favorite Greek island!
Oh, and did we mention that there are many fantastic places to visit in Piraeus?
If you want to find out the best things to do in Piraeus, keep reading!
Getting to Piraeus
Getting to Piraeus is super easy, as it is well-connected to Athens city center. One option is to take the 040 bus line from Syntagma Square, which will get you to Piraeus in about half an hour.
A faster alternative is to take the metro line 1 from Monastiraki Square, which leaves you right in front of the port in about 20 minutes. From the port of Piraeus depart ferries to Santorini, Mykonos, Paros, and almost all the Greek islands! Being the closest port to the city center, Piraeus is hands down the most convenient port in Athens.
So, if you want to get to Piraeus to take the ferry, then we recommend using metro line 1. If on the other side you want to visit Piraeus for exploration, then the 040 bus line is the best option!
Have a drink or a bite with a view at Marina Zeas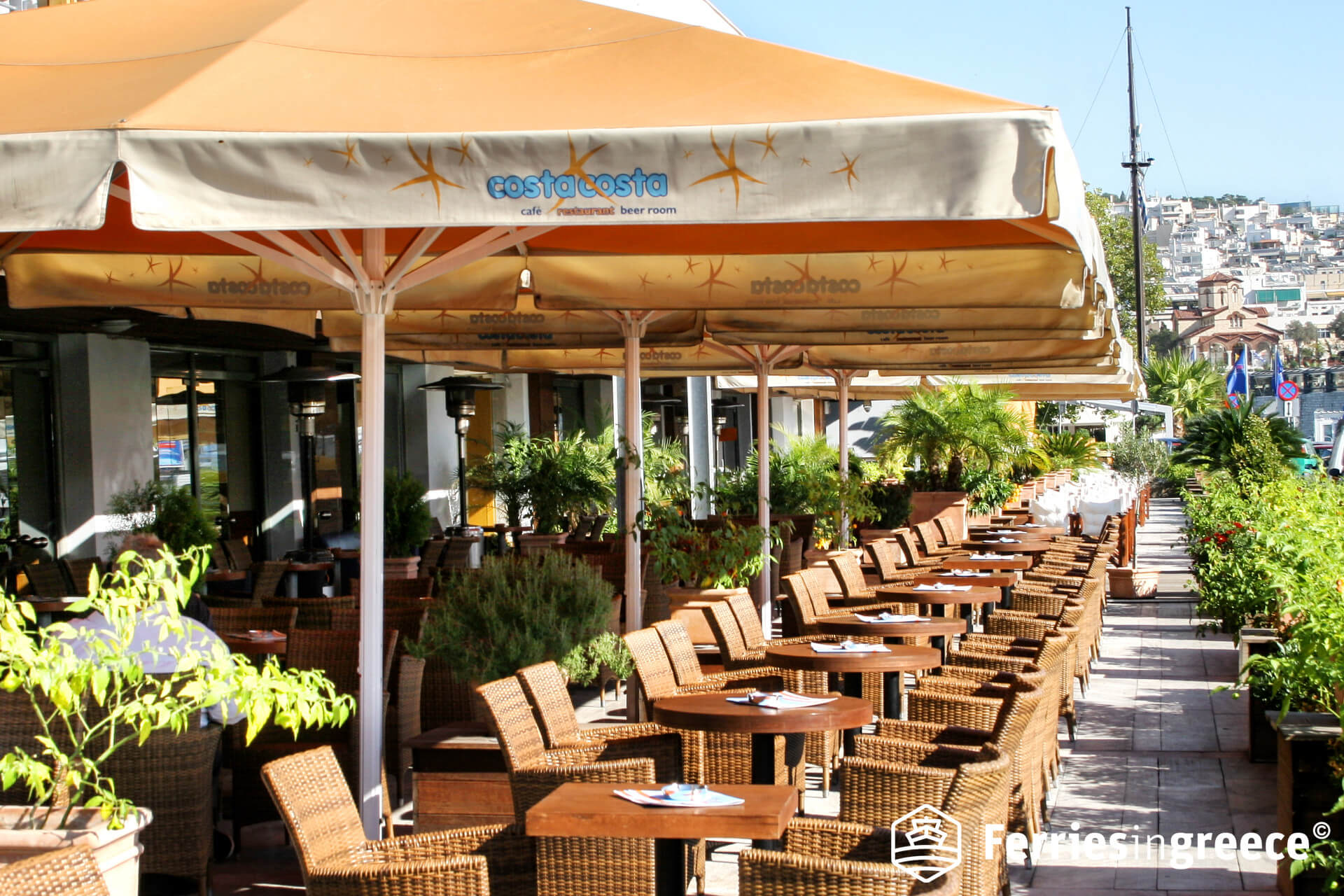 Marina Zeas, also known as Pasalimani, is the second port of Piraeus, where many yachts anchor. It actually has a total capacity of 670 berths, on both permanent and floating pontoons. Marina Zeas is a port with a long history, as it was an important naval base.
Today, Marina Zeas is one of the hippest places in Athens. Lined with bars and restaurants that boast all-encompassing views of the Saronic Gulf, Marina Zeas is a must for a night out. Some of the best places to dine are Hams and Clams for oysters, Pancho for Mexican food, and Rocambolesco for Italian food.
Marina Zeas is a destination that will answer all your gastronomical dreams!
Visit Piraeus Archaeological Museum
It's not a secret that Greece has an enduring history. So, it doesn't come as a surprise that there is an archaeological museum in Piraeus.
This museum might be small, but it hosts many important findings from excavations carried out in Piraeus and the coastline of Attica. At the Archaeological Museum of Piraeus, you can find exhibits that date back to the fourth and fifth century B.C. Among its exhibits, you'll find bronze statues, pottery items, and large funerary monuments.
Housed in a two-floor building, this museum is divided into the following sections: Ancient Piraeus as a naval dockyard and commercial center, Pottery and private life, The bronze statues of Piraeus, Religious life, Morphological development of the sepulchral monument, and the plastic art of the Hellenistic and Roman periods.
Stroll around the picturesque Mikrolimano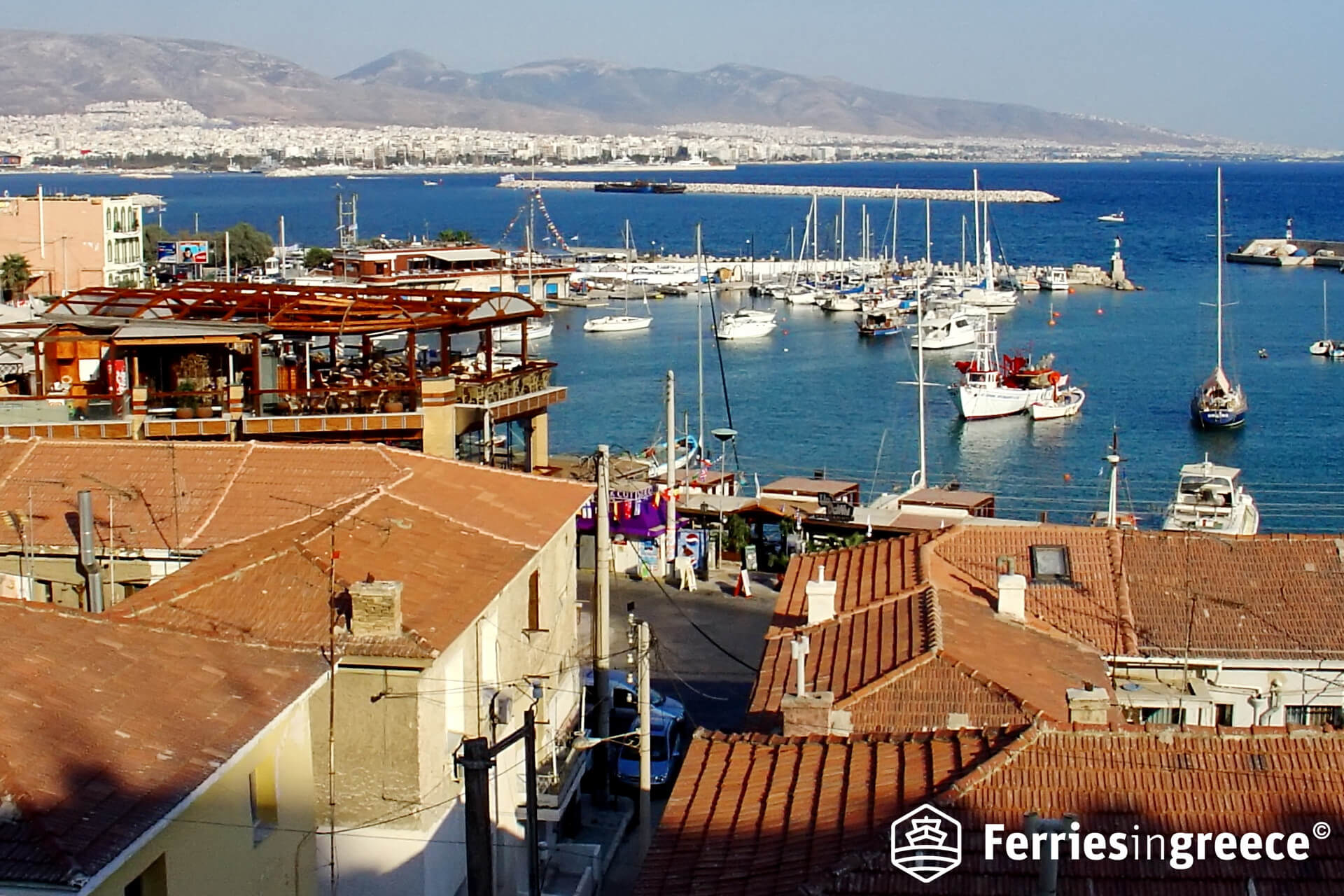 The truth is that Piraeus is not only the biggest port in Athens but also a go-to destination for seafood in the Greek capital.
Mikrolimano (Small port) is where the culinary heart of Piraeus beats! In Mikrolimano, you'll find many upscale seafood restaurants, like Varoulko seaside and Papaioannou. There, you'll taste fresh fish and seafood with a glass (or two) of ouzo living the authentic Greek gastronomical experience.
The breathtaking view of the sea and the little boats anchored at the little port make the dining experience even more unique!
Escape the hustle and bustle of the city in Kastella
Kastella neighborhood is one of the most beautiful places in Piraeus. Located behind Mikrolimano, the hillside district of Kastella is covered with colorful neoclassical mansions that ooze a nostalgic retro charm. This place seems to have been lost in time!
The narrow roads of Kastella are perfect for an evening stroll away from crowds. So, get ready to leave behind the rumbles of the city and immerse yourself in the old-time atmosphere of Kastella. Especially if you are a photography enthusiast, you'll fall in love with the traditional houses, the colorful little corners, the flowery yards, and the abandoned mansions!
Tip: On the slopes of Kastella hill lies Veakeio Theater. Veakeio is an open-air theater that hosts many theatrical and musical performances during the summer. We highly recommend you attend one of them!
Visit the Hellenic Maritime Museum
This is another museum you must visit!
The Hellenic Maritime Museum is ideally located at Marina Zeas. Founded in 1949, the Hellenic Maritime Museum is the biggest Maritime museum in Greece. In the ten rooms of this museum, you'll find several objects that relate to the Hellenic naval history from the prehistoric age until now.
In the Hellenic Maritime Museum, you'll also find the Maritime Photo Gallery, where you'll have the chance to see seascape paintings of famous Greek artists, a big maritime map collection, and a collection of 10,000 maritime books and magazines!
Well, it's beyond any doubt that Piraeus is much more than a departure point for your holidays in the Greek islands. From sightseeing to entertainment there's so much to do in Piraeus!
Book your ferry tickets from Piraeus to the Greek islands here!