The small island of Ithaca is famous all over the world as the legendary homeland of Ulysses, the hero of the Trojan War who needed 10 years to return to his island, after having wandered all around the world. This story is a great myth and since then Ithaca symbolizes home, the end of a journey, the goal at the end of a trek…
Today Ithaca is known as a small island of fantastic beauty, ideal for relaxing holidays. Ithaca can be accessed by ferry and provides a nice alternative for a destination off the beaten track.
Beaches
Ithaca is geographically located right opposite the island of Kefalonia, which is famous for its fantastic beaches. However, the beaches of Ithaca are not large or sandy, like the famous Kefalonia beaches. Most beaches in Ithaca are small bays with white pebbles, crystal waters and green surroundings. The entire island is actually green and has exotic, blue-green water.
The most famous beaches are Sarakiniko and Filiatro, two close bays on the southern side of the island, partly organized with facilities. Very nice is also the beach of Gidaki that can be accessible only by boat from Vathy, the capital town. Another nice place to swim is Agios Ioannis.
Villages
Despite its small size, the island is spread with many small villages. The largest village of Ithaca is Vathy, a place built amphitheatrically around the port. A very picturesque place is Kioni, a small village on the northern side. A drive around will bring you to many other nice places, such as Frikes, Stavros, Paleochora, Anogi and more.
Things to do
Apart from the Monastery of Panagia Kathariotissa, there are not many sights to see in Ithaca island. The Monastery of Kathariotissa is located on the highest spot of the island and offers breathtaking view to the Ionian Sea. Due to the relaxing atmosphere, Ithaca is a nice place for swimming and hiking. Many hiking trails cross the island and lead to secluded places to swim and gaze the view. Ithaca is also a popular place for artists who get inspired by the lovely atmosphere.
How to go: ferry to Ithaca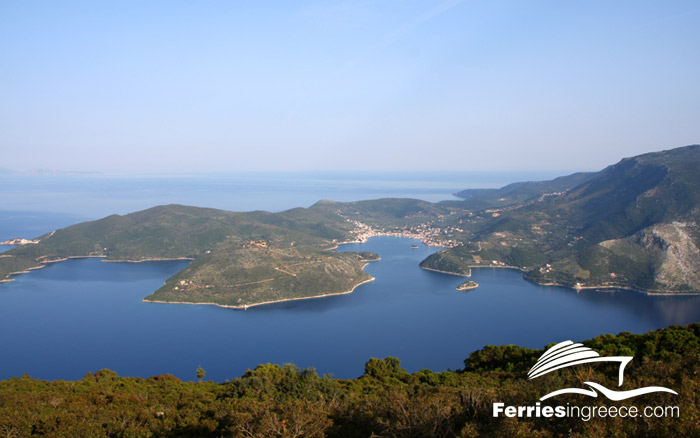 As there is no airport on the island, the only way to go to Ithaca is by ferry. Ithaca ferries depart from the port of Killini in Peloponnese and go to the island via Poros port in Kefalonia. There is also ferry to Ithaca from the port of Sami in Kefalonia. In summer, there are also ferries from Astakos port in mainland Greece and Vasiliki in Lefkada island.
Ithaca has three ports: Vathy, Pisaetos and Frikes. Depending on the departure port, the ferries arrive in different islands. For example, the ferry from Lefkada arrive in Frikes and the ferry from Kefalonia in Pisaetos.