Want to know a secret about Mykonos island hopping?
There's more than just spending your holidays in Mykonos, when in Greece!
There are so many ferries from Mykonos to Santorini and numerous other beautiful Greek islands! This means Mykonos island hopping is a must!
Already planning to hop on a ferry from Athens to Mykonos and wondering what's next?
Let us walk you through the ultimate Greek island hopping experience!
Let's start with the ferries
Well, we bet you already know that Mykonos Greece is quite a famous Greek island. In fact, it is among the top tourist destinations in the world.
What you may not know is that Mykonos belongs to the Cyclades island group. What you may also not know is that it gets crowded through the summer period, from April to October.
The question is: What makes Mykonos such a popular destination?
It's all about the lively party scene, Mykonos beach bars that stay crowded till the morning hours, its romantic paved streets, the glorious sunsets, the luxurious Mykonos hotels, the stunning beaches with crystal blue waters… We could go on forever!
Mykonos is an island receiving millions of tourists every summer. Also, it can be easily accessed by plane or ferry. Ferries to Mykonos are frequent and depart from various Greek ports.
Ferry from Athens to Mykonos
There are daily ferries from Athens to Mykonos, both from the ports of Piraeus and Rafina.
During summer, ferries from Piraeus to Mykonos depart 2 or 3 times a day. On their way to Mykonos, they pass from some other Greek islands. The ferry time depends on the vessel and the route, but generally, it varies from 4 to 5 hours.
More ferries to Mykonos depart from the port of Rafina, on the northeastern side of Athens.
Rafina port has been developed a lot over the last years. The reason for that is its close distance to Athens airport (15 min by taxi and 30 min by bus). Rafina serves mostly tourists who arrive at the Athens airport and travel directly by ferry to the Greek islands, without spending some days sightseeing in Athens.
Ferries from Rafina to Mykonos depart all year round, following the route Rafina-Andros-Tinos-Mykonos. However, in summer, there are about 5 to 6 schedules to Mykonos from the port of Rafina.
Truth is, ferry times depend on the vessel. This means they vary from 2 hours with a high-speed ferry, to 4 hours with a normal ferry.
Tip: Given that the island gets very popular, you better book your ferry tickets to Mykonos at least 2 months before the trip. You should do so, especially if you are traveling during high season (July and August). Ferry tickets to Greek islands as popular as Mykonos may sell out quickly!
Book your ferry from Athens to Mykonos!
Mykonos island hopping to other islands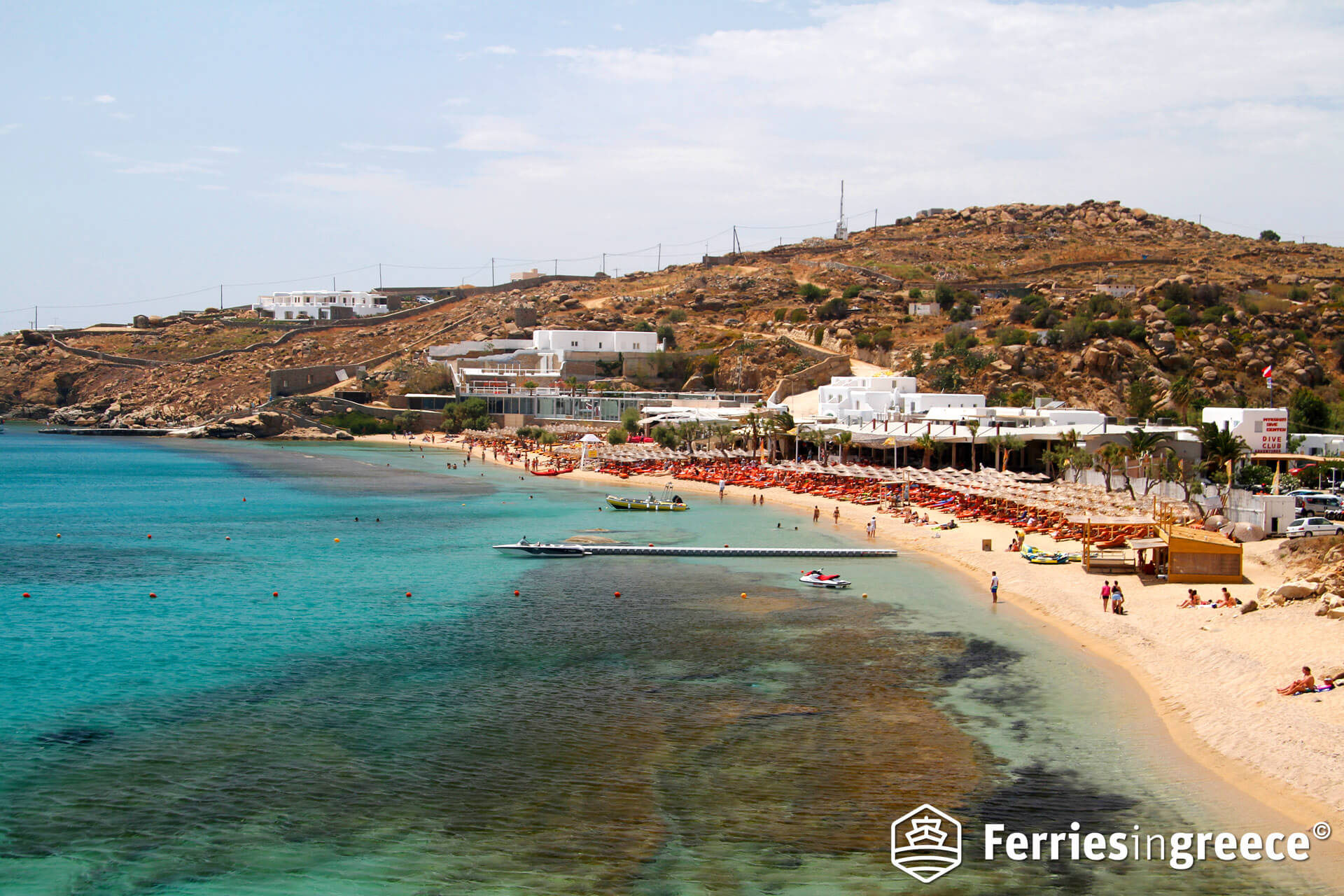 Don't think about it. Mykonos is the perfect option for island hopping to other islands!
There are ferries to Mykonos from all the popular Cyclades islands, including Santorini, Naxos, Paros, Milos, Tinos, and Syros. There are also ferries from Crete to Mykonos, in particular from the port of Heraklion.
Looking for other routes from Mykonos?
Ferries also run between Mykonos and islands of the Dodecanese or Eastern Aegean, such as Rhodes, Kos, and Samos.
All you need to know about Mykonos port
The first thing is, they are actually two of them.
Mykonos Old Port is at Mykonos Town. Besides, Mykonos New Port is in the region of Tourlos, 2 km from Mykonos Town. Most ferries and cruise ships arrive at the New Port, which is larger and has more marinas.
The old port serves mostly excursion boats. Some ferries, though, may depart from the old port of Mykonos, instead of the new. This happens usually with small ferries, like the vessels of the ferry company Sea Jets.
Tip: Always make sure which port you depart from, to avoid any last-minute stress!
Why Mykonos island hopping is a must
Due to its central location, Mykonos is perfect as a starting point for island hopping!
Mykonos island hopping is very popular! This is because visitors get the chance to explore many islands easily and efficiently.
So, hop on a ferry from Mykonos and discover the extraordinary Santorini, cosmopolitan Paros, traditional Naxos, and lively Ios!
Island hopping from Mykonos to Santorini
Perhaps unsurprisingly, the most popular route for island hopping is getting a ferry from Mykonos to Santorini.
Visiting Santorini is a must, so don't let the chance slip away!
This unique island with impressive water-filled caldera and picturesque villages will steal your heart.
Hop on a ferry to Santorini from Mykonos and visit the scenic villages, built on caldera cliffs that were formed thousands of years ago. Stroll around the whitewashed cubic houses in Fira and Imerovigli and enjoy spectacular sunset views from the village of Oia.
Sounds amazing, right?
Book your ferry ticket from Mykonos to Santorini!
Island hopping from Mykonos to Paros
So what's next?
The incredible island of Paros!
Its close distance from Mykonos makes it ideal for island hopping from Mykonos. A trip by ferry to Paros from Mykonos usually lasts about 2-4 hours.
Paros is famous for its cosmopolitan atmosphere and the wonderful Paros beaches. To name a few, Kolimbithres beach Paros, Santa Maria beach Paros and Golden Beach Paros are among the most famous ones.
Moreover, Naoussa, Parikia, and Lefkes are some of the most picturesque villages of the island. The reason they stand out is no other than their unique traditional character.
Book your ferry ticket from Mykonos to Paros!
Island hopping from Mykonos to Naxos
Hopping on a ferry from Mykonos may also take you to the verdant island of Naxos, in the center of the Cyclades.
Ferries to Naxos from Mykonos are frequent and the trip lasts about one hour and a half.
Being the largest island of the Cyclades island complex, Naxos has a lot to offer! From interesting sightseeing and lively villages to exotic beaches and green valleys, everything will amaze you!
But what are the best Naxos beaches?
Plaka, Agios Prokopios, Mikri Vigla, and the other beaches on the western side of Naxos are the most popular places to swim!
Book your ferry ticket from Mykonos to Naxos!
Island hopping from Mykonos to Ios
Another amazing destination for island hopping from Mykonos is the magnificent Ios. Ios is known to be the island of contrasts.
Want to learn something interesting?
Ios means flower in ancient Greek.
It is, indeed, a very beautiful island, presenting a coastline of exotic sandy beaches and emerald waters. Such beaches are Mylopotas and Maganari.
What makes Ios stand out?
Its intense nightlife! That's because numerous bars organize parties all night and all day long. Many people visit Ios to get a taste of the cosmopolitan attitude and have fun at the beach parties in Mylopotas. Others to admire its natural beauty and history!
One of the highlights of Ios is also Chora village!
Just imagine 365 churches, paved pathways and a Medieval castle on top of the main village! As a result, Chora, Ios provides a lot of sightseeing and amazing hilltop views.
Don't think too much! Hop on a ferry to Ios and enjoy its wonderful scenery and frenetic nightlife!
Book your ferry ticket from Mykonos to Ios!
By now, we're sure you've found the perfect Mykonos island-hopping itinerary, right?
So, what are you waiting for?
Get a ferry from Mykonos and live an unforgettable holiday experience!