The island group of Dodecanese is located on the southeastern side of the Aegean Sea and has both popular and secluded destinations. Most tourists have heard of Rhodes and Kos, the two most popular Dodecanese islands, but there are many more unknown places to enjoy relaxing holidays in this part of Greece. Here are some secret places to discover by ferry in the Dodecanese islands group.
#Karpathos
Over the last years, Karpathos vividly appears in travel magazines for its exotic beaches and the traditional style. However, it is still a relaxing place with no large crowds and mass tourism. The beaches of Karpathos have fantastic, blue-green waters and are frequently considered among the best beaches in Greece. Kyra Panagia and Apella are the two most impressive places to swim, while very impressive are also the mountainous villages in the inland. Olympos, Othos, and Menetes seem like villages from another era and they are frequently connected by hiking paths.
How to go: By plane from Athens or charter flight from abroad. There is also ferry to Karpathos from Piraeus (long trip, about 20 hours), Heraklion Crete and Rhodes (short trips).
#Kalymnos
Did you know that Kalymnos of Dodecanese islands is gradually developing as the top rock climbing destination in Greece? This is due to the fantastic, natural rocks and caves on the northern side of the island. In fact, an international climbing festival takes place every autumn in Kalymnos and the neighboring island of Telendos. Apart from climbing, Kalymnos is also a great place for relaxing family holidays, with seaside villages right by the sea and fish taverns with delicious local recipes.
How to go: By plane from Athens (3-4 times per week), or by ferry to Kalymnos from Piraeus port in Athens, Rhodes, Kos and other islands.
#Patmos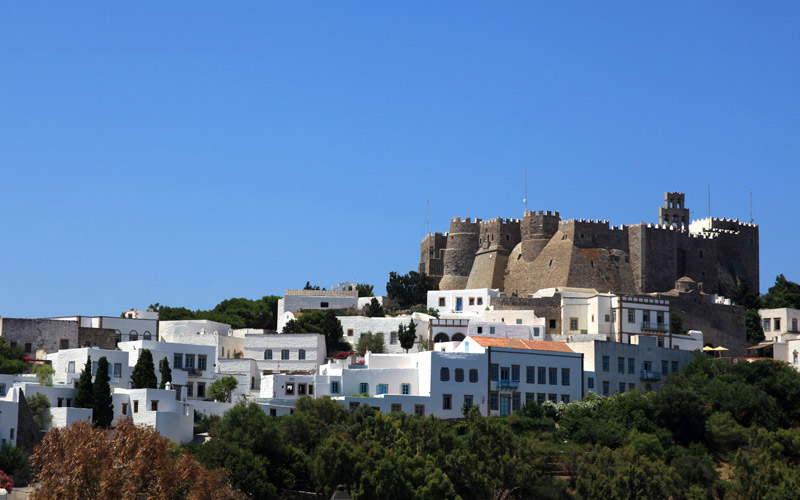 As Patmos is a frequent stop for cruise ships traveling the Aegean Sea, its name is getting famous among the Dodecanese islands. According to tradition, this is the place where Saint John was inspired and wrote the Book of Revelation (Apocalypse), which is why the most important sights in Patmos are the Monastery of Saint John and the Cave of Apocalypse. However, Patmos is also a fantastic island to relax, with sandy family beaches and traditional villages to discover.
How to go: There are ferries to Patmos from Piraeus port in Athens, Kos, Rhodes and other close islands.
#Simi
Simi is a tiny, cozy island geographically located between Rhodes and Kos, Dodecanese Islands. If you are looking for a small, picturesque place with special character and no crowded beaches, then this is the place! The port of Simi with the traditional village on the hill slopes attracts visitors at first sight. Although beaches on the island are not large in size, but mostly small coves, they have relaxing atmosphere, ideal for a hot summer day. Do not miss a visit to the Monastery of Panormitis, the protector saint of the island.
How to go: There are ferries to Simi from Piraeus port in Athens 3-4 times per week. As this is a long trip (about 16 hours), many people fly to Rhodes and take the ferry to Simi from there (1 hour).
Want to book online? Check our booking engine!