Between the Saronic and Argolic Gulf in the Aegean Sea, there lies the astonishing Hydra island. The name Hydra (coming from the ancient Greek word for water) is not a euphemism, for this island is teemed with cool and bubbling water springs. Formally, the province of Hydra belonged to the Piraeus Prefecture because it is located close to Greece's main port city, Piraeus. Hence, Hydra island is easily accessible by ferries all year round, with many short daily routes arriving at its beautiful port that has a shape resembling a crescent.
#What to see
Hydra has been inhabited since ancient times, but its presence during that period had not been very strong. There are some findings of vessels and utensils discovered in there and only some brief mentions by the Greek historian Herodotus and the Greek geographer Pausanias that can verify the afore-mentioned claims. In the 19th century, during the Greek War of Independence, though, Hydra gloriously passed into history. The three most prominent figures of that period is the admiral and politician Andreas Miaoulis, the admiral Paulos Kountouriotis and the shipowner Lazaros Kountouriotis. The mansion of Lazaros Kountouriotis on Hydra became a very interesting national museum that explores and clearly reflects many aspects of the Greek and Hydriot history. There are many mansions of heroes of that time scattered all over Hydra that are well-preserved and worth-visiting.
Located next to Hydra's port, there is the Ecclesiastic and Byzantine museum of Hydra. This museum has been operating since 2005 and it lies next to "Moni tis Koimiseos tis Theotokou", which is the oldest church on the island, built during the 17th century. This museum houses many special exhibits that apart from being pieces of high ecclesiastic art, also reveal Hydra's rich history. Although small, Hydra has many lovely churches such as the church of "Agios Konstantinos o Hydraios", located upon Kiafas hill and the church of "Ypapanti" with elaborate frescoes that trace back to the 18th century.
#What to do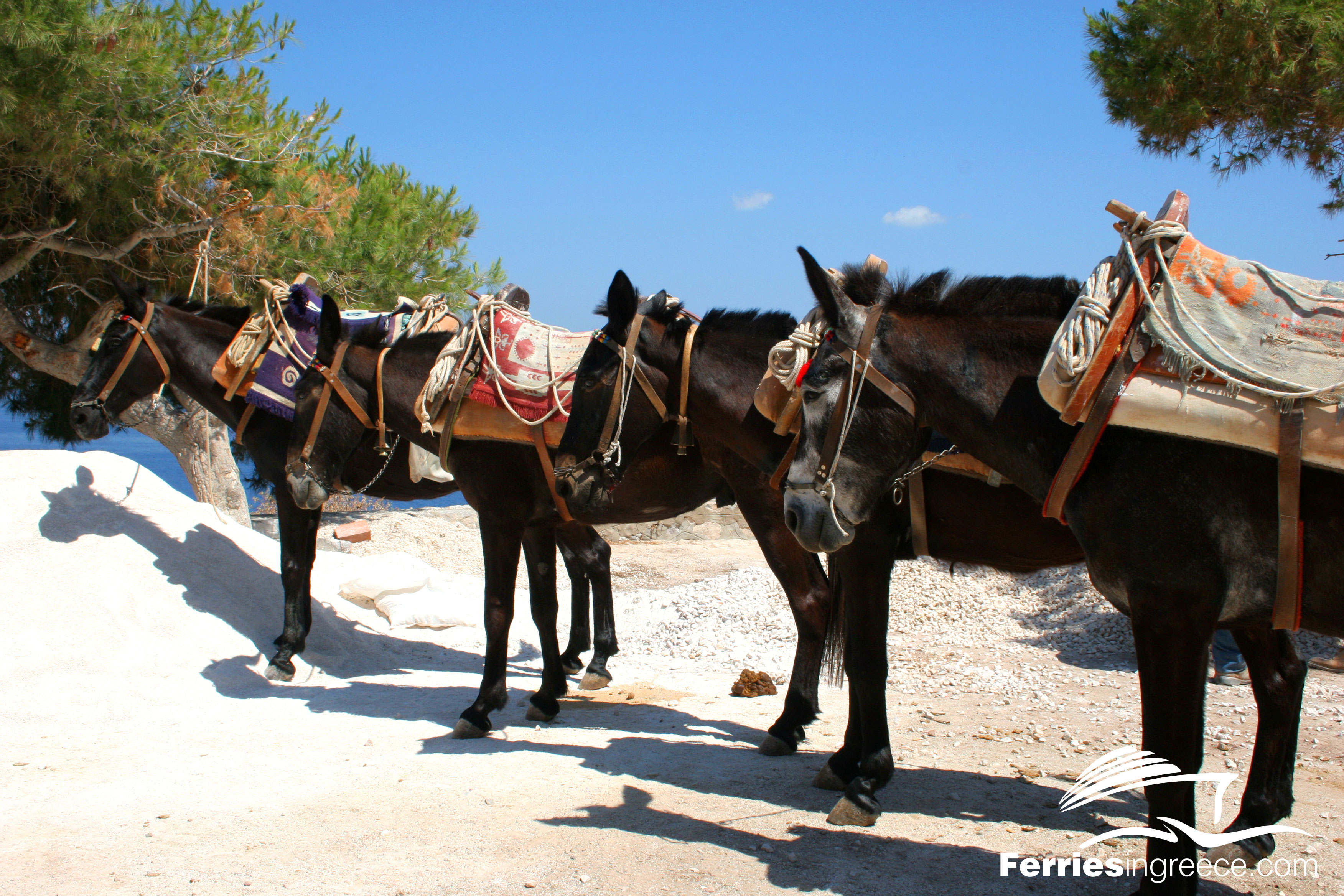 What is totally unique about Hydra is that the there are no cars or buses or any such vehicles around the island; donkeys are used instead! This striking feature makes Hydra island unforgettable! You will not believe how peaceful and stress free you will feel after even a day or two on the island. Stroll around the island or ride a donkey and explore every beautiful corner of it (hidden or not).
Water sports are also very common and there are many organized beaches in where you can go sailing or in where you can go diving.
#Where to swim
Spilia beach is one of the most famous beaches around the island. It is a rocky beach, perfect for those who like diving. One of the loveliest beaches on the island is Vlychos, which is fully organized and thus, ideal for families. Its pebbles have a unique and distinctive light gray colour and its waters are crystal-clear. If you prefer sand, Kaoumithi and Palamida beach is the right place for you.
#What to eat
Apart from fresh fish, you should try "amygdalota". "Amygdalota" is a famous sweet made of crushed almonds. This sweet is also made in various places around Greece, but the Hydriot recipe is mouth-watering!
Get a ferry and explore this mesmerizing island now!