The Ionian Islands, the third most popular island complex in Greece, are famous for their beautiful exotic beaches, their vast vegetation, and the unique architecture and traditions, which were strongly influenced by the Venetian rule. Due to their proximity to each other, the Ionian Islands are the best choice for visitors who want to spend their holidays doing some Greek island hopping instead of visiting only one island at a time.
Greek Island Hopping: Kefalonia – Ithaca
Kefalonia and Ithaca are two lovely islands that can make a very interesting Greek island hopping route. The stunning beaches and green nature are the main characteristics of these two islands. Sightseeing is interesting, especially in Kefalonia, where visitors can see castles, museums, monasteries, and impressive caves, such as the Lake Cave of Melissani and Drogarati Cave with stalactites and stalagmites.
In summer, there is frequent ferry connection between Kefalonia and Ithaca. Daily ferries to Kefalonia depart from the port of Sami and arrive at Pisaetos port in Ithaca. Occasionally another ferry departs from Poros port in Kefalonia and also arrives at Pisaetos. These Ithaca ferries take about 30-60 min.
Kefalonia – Zakynthos
From Kefalonia island that hosted the famous Hollywood movie "Captain Corelli's Mandolin" to Zakynthos island with the marvelous Navagio beach and the Blue Caves, this Greek island hopping route is spectacularly beautiful. Apart from fantastic beaches, these two Ionian islands also have interesting sightseeing and traditional villages to explore.
In summer, a small Zakynthos ferry connects daily Agios Nikolaos port in northern Zakynthos to Pessada port in southern Kefalonia, allowing an easy Greek island hopping route. As this is a small local ferry, passengers can't book ferry tickets online for this route. Instead, they have to buy tickets at the port before the ferry departs. View schedules and tickets prices at the website of Ionion Pelagos ferry company that runs the route between Kefalonia and Zakynthos.
Kefalonia – Lefkada
Windsurfing and kite surfing in Lefkada, or relaxing at the stunning beaches of Myrtos and Antisamos in Kefalonia? There is no need to make a choice since you can do both in one Greek island hopping route. In summer, there is a daily ferry that connects Vassiliki port in Lefkada to Fiscardo port in Kefalonia, therefore hopping from one island to the other is easy.
As the ferry company does not accept online bookings, passengers have to buy tickets at the port before the ferry departs. View schedules and ticket prices of the ferry from Lefkada to Kefalonia in the website of West Ferry, the company that operates the route.
Corfu – Paxi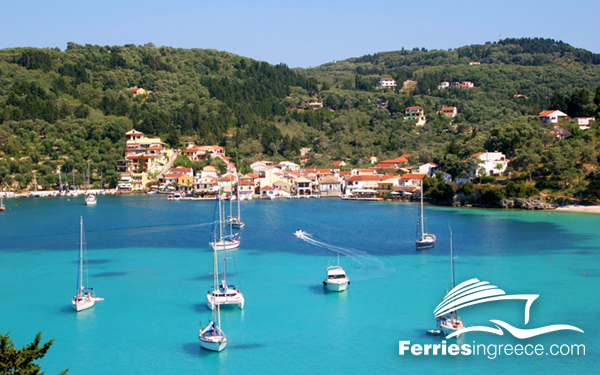 Corfu island has something special for everyone. The Old Town with the two Venetian Castles will have you believe you are walking down the streets in Florence. Though Corfu is full of sights to see, the neighboring tiny island of Paxi is all about relaxing in fantastic Caribbean beaches with exotic water.
In summer, there are daily ferries from Corfu Town to the island of Paxi. These ferries carry only passengers. If visitors want to go from Corfu to Paxi with the car, they have to take the Corfu ferry to Igoumenitsa and then another ferry from Igoumenitsa to Paxi.