The beautiful island of Ios in the Cyclades is famous for its vivid nightlife and the gorgeous beaches. Each year, it attracts a large number of young people who board on ferries to Ios, in order to swim in crystal waters and party from dusk till dawn. However, Ios is equally ideal to unwind, as it also offers nice chances for hiking and swimming in secluded bays. Ios is accessible by ferry from Piraeus and sometimes from Rafina.
Beaches
Ios is a paradise of beaches with golden sand and glittering waters. In fact, most of the beaches are secluded, retaining their original wild beauty. Going on a jeep safari is a great way to discover these hidden treasures. Organized beaches with sundecks, beach bars, restaurants, water sports and accommodation facilities can also be found.
The busiest Ios beach is Mylopotas, a long sandy beach close to Chora, where most tourist activities are found and parties take place. Manganari and Gialos are other greatly visited beaches due to the crystal waters.
Villages
The main village of Ios is Chora, located very close to the port where ferries to Ios disembark. This village is amphitheatrically built on the slopes of a hill, offering amazing views, and constitutes the ultimate combination of traditional style and modern entertainment.
On top of the hill stand the ruins of a Medieval Castle, while all around the village are scattered white little houses and small churches with arched belfries. This picturesque setting creates a unique atmosphere that is only matched by the vivid nightlife in the many bars of Chora.
Things to do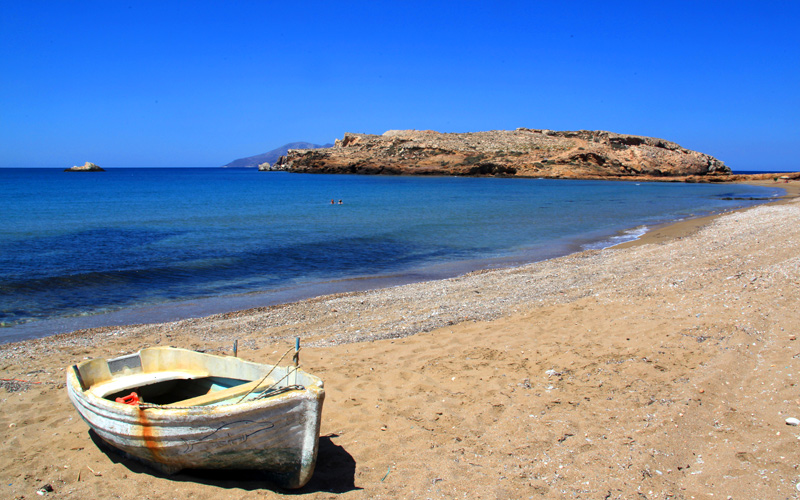 Whether you are an adventurous type, a lively youth, or just want to relax, Ios has got it all covered. From midday till early morning, you can dance at the exciting parties in the numerous bars or at the beach. Young people from all over the world travel to Ios to experience nights of fun, flirting, and endless dancing.
Water sport activities are also very popular, as there are many facilities in the organized beaches. Beaches with strong winds are ideal for windsurfing and most windsurfing centers in Ios offer equipment and training. Hiking paths are also available around the island.
For more peaceful pastimes, Chora offers a great variety of dining options. Discover the Cycladic cuisine by trying traditional dishes. Do not miss a visit to the church of Panagia Gremiotissa for the spectacular view of the sunset and the Aegean Sea.
Ferries to Ios
In high season, ferries to Ios depart from Piraeus port in Athens daily and the journey lasts from 4 to 7 hours, depending on the route and the vessel type. There might also be occasional schedules for ferries to Ios from the ports of Rafina and Lavrion, the two smallest ports of Athens. The island can also be accessed by ferry trips from other islands of the Cyclades. Ferry destinations include Paros, Naxos, Mykonos and many more.