The wonderful island of Andros is found at the northernmost part of the Cyclades complex in the Aegean. Quite distinct from other islands, it features rocky landscape with mountains, rich vegetation, springs and streams, as well as fantastic beaches. Olive groves and vineyards surround traditional villages, where visitors are welcome to rest and enjoy genuine Greek hospitality.
Andros is also offered for cultural holidays, as it has many museums and historical monasteries. Visiting Andros is possible from many islands of the Aegean, while ferries to Andros from Rafina port, the second largest port of Athens, are daily all year round and more frequent in summer season.
Beaches
The coastline of Andros is lined up with amazing beaches, each with diverse characteristics. Organized beaches in Andros are found in the western part of the island and they are easily accessible by car. On the northern side, tourists will encounter quieter, almost private beaches with rough scenery. Getting to these coasts by car is challenging as in most cases you will need a jeep.
The most popular beaches in Andros include Batsi and Golden Beach (Chrissi Akti). They are both organized and have soft golden sand and shallow waters. Worth visiting is also Kipri beach, a sandy beach bordered by rocks that provide shade, and Agios Petros, sandy coast with shallow waters and taverns. The bay of Ormos on the eastern side of Andros is popular for windsurfing. Batsi Beach is also 7 km away from the port where the ferry arrives.
Villages
The largest and most known village of the island is Chora, at a distance of 30 km from the main port of Gavrio, where ferries to Andros arrive. Chora is a unique settlement enjoying the fantastic architecture. Styles from different eras are harmoniously combined, comprising a mix of Venetian, Neoclassical and Cycladic architecture. The entire town is built around a Frankish castle, constructed in the 13th century. In Chora, there are also several interesting museums, such as the Nautical Museum, which presents the great naval history of Andros.
Another popular village in Andros is Batsi, which is the most tourist developed village and has lounge nightlife. In Batsi, a lot of accommodation and entertainment choices are provided, as well as bars and night clubs. While you are in Batsi, do not miss the chance to visit the interesting Tower of Agios Petros, which will soon be restored.
Things to do
Andros enjoys a varied landscape, excellent weather, traditional hospitality, and vast history, therefore it is ideal for many kinds of activities. The mountains and several trails through the fertile plains are perfect for walking or hiking. Many beaches provide water sports facilities and sailing opportunities. The beach of Ormos is a very popular windsurfing spot, as it has strong wings.
The villages, especially Chora, have nice museums, such as the Nautical Museum and the Museum of Modern Art. What is more, you can also try jeep safari to secluded beaches and delight in total tranquility.
Ferries to Andros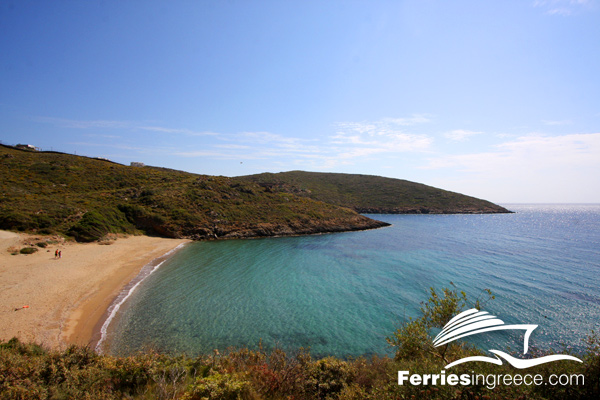 Ferries to Andros depart from Rafina, the second largest port of Athens after Piraeus and the closest port to Athens airport. There is no ferry to Andros from Pireaus. The ferry from Rafina to Andros takes two hours and the trip is daily, all year round. In summer, schedules are more frequent, 3-4 times per day. Ferries to Andros continue to Tinos, Mykonos, and Syros, connecting Andros with other islands of Cyclades.